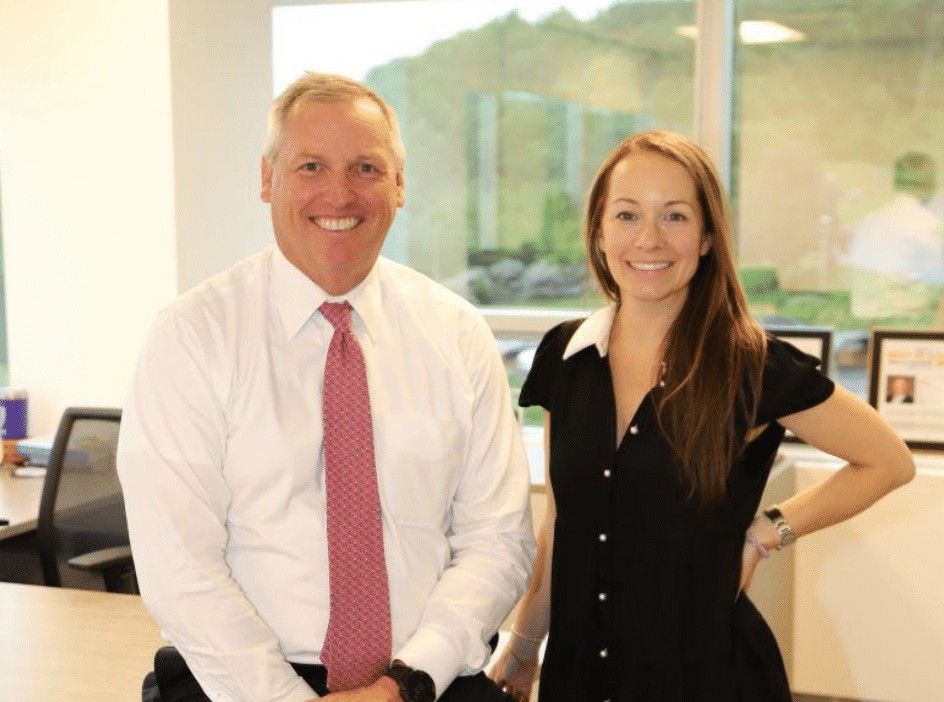 SLICE OF RYE: The People Principle
by Robin Jovanovich October 5, 2022
In his 35-year career in finance, Barry Mitchell has weathered a lot of financial storms
and kept a lot of client's spirits afloat. Now at the helm of his own independent firm, Next
Level Private LLC, he says what's gotten him here is the desire to help the aspirational,
not the super-wealthy, investor.
"I grew up in New Rochelle in a middle-class family and worked my way up," he said in
a recent interview. After graduating from Boston College, he started off in the Merrill
Lynch training program. He worked at Oppenheimer Funds for close to a decade before
moving to Morgan Stanley where he helped form the wealth management group. From
there went to Wachovia Bank.

In 2003, he and Jenny Piche, whom he has worked with since 1999 and is now
Managing Director of Client Engagement at Next Level, left Wachovia for Merrill Lynch,
where their goal was "to cater to successful middle-class people who would benefit from
what we did on a daily basis."

After the tailspin of 2008 and Bank of America's purchase of Merrill Lynch, the duo went
to UBS in 2011 and stayed for ten years. "For much of that time it was great working at
UBS, but the environment grew increasingly disturbing," he said. "I felt my responsibility
was to clients first, the firm was more interested in the shareholders."
In September 2021, with the pandemic raging, Mitchell and Piche decided it was time to
make a paradigm shift and go out on their own.

Looking back, Mitchell, who is 57, said reflectively, "Shame on me for staying so long."

To make the transition was work-intensive and required a lot of education, he added.

"I think of myself as a financial advocate, not just a financial advisor. To that end, I
figure out what's the best path for that client."

He continued, "Running a firm includes taking care of your team — there are now 11 of
us. My goal is not for the team to be the richest in the graveyard."

The team includes Maggie Smith, Director of Client Enhancement, whom Mitchell got to
know when she was running the Women's Youth Lacrosse League and he the Men's
League in Rye. Another Rye resident, Kate Bluvol, is the firm's COO. They all enjoy the
short commute to the Harrison headquarters.

He and Piche are a perfect partnership: "The things I'm good at, she's not, and vice
versa. I'm from the school where you find your weakness and turn it into strength.
Together, Jenny and I are one plus one equals 20."

Before any potential client invests with Next Level, the firm does a financial diagnostic
and produces a plan. "We're not mortgage brokers or insurance brokers or long-term
care consultants, but we have conversations with clients on these subjects and we find
out their risk-tolerance, too," said Mitchell.

Part of a financial advisor's job is working through recessions and inflationary times.
"There is a psychological aspect to managing other people's money and we often play
part-time psychologist," he added with humor.

Everyone on the team at Next Level is committed to "the ethos that a community only
gets better if you invest in it." A portion of their profits goes to nonprofits. At the firm's
annual summer event at Shenorock Shore Club, they invite representatives of
nonprofits to share their stories. "Our goal has always been to take clients to the next
level, and, at some point in the journey we may become the preeminent financial
advisory firm in Westchester," Mitchell said. And that would make a really good story.